Mr Sreedharan has suffered a stroke and has several ailments which include his kidney as well, his hands had tremors which could not be concealed and he is 82 years old but that did not deter the man from being proud about his 25-year long literary work (The Dictionary )which is nothing but the highest sort of meditation a normal human being can undertake.
Mr Sreedharan does not hold a Ph.D. nor Mphil from any university, soon after he finished 4th metric, he joined the beedi (a thin cigarette originated from the Indian Sub Continent) manufacturing company where he would read newspapers and got his first exposure to the realm of literature. He continued his education through Balasahithya Society, a children's educational society, and used to read out and conduct lectures for the society.
The real education begins after school is the right statement for this 82-year-old who retired from the irrigation department of Kerala as a blueprint maker. A blue printmaker is a person designated to make waterproof maps or cartography using chemicals and various processes. He remembers the quality of the maps and the capacity for it to withstand wear and tear. He traveled extensively during this period learning from literary geniuses. He learned that to truly understand Malayalam he needs to understand other Dravidian Languages as well, thus his journey to learn Tamil, Telugu, Kannada and the genesis of the Dictionary happened.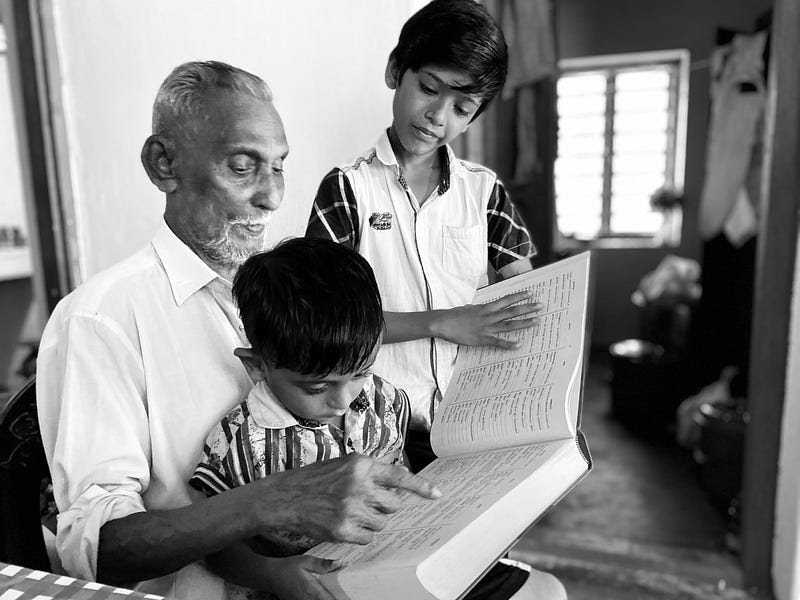 Like all novel ideas have an ample set of people to put them off, Mr. Sreedharan also had a fair share of acquaintances who did not waste any chance to let him know that he was wiling away his time. He found inspiration in a few and their encouraging words are bearing fruit after 25 years on 01 Nov 2020 amidst the pandemic. he kept traveling, finding time from his government job, and being committed to documenting words that found usage in all the four Dravidian Languages.
He met roadblocks from the language society and had his fair share of troubles wherein his complete manuscript was precariously misplaced and after filing various complaints he got his work back. The support for a literary work from a nonacademician is next to impossible and that is the primary reason for not having original work being published. Mr. Sreedharan was able to publish a Malayalam-Tamil dictionary since several publication houses were not willing to proofread such an extensive dictionary. He was documented and widely reported in several newspapers and a documentary was published in Asianet (a Malayalam television channel ).
This Dictionary which is a compilation of thousands of words that finds meaning in all four languages is nothing but a feat that has to be documented and kept as a reference in the various libraries and universities as well as educational institutions. The government as well as the literary society should come together in the marketing, publicity, and royalty generation for this Dictionary since it will go a long way in inspiring people like Sreedharan to pursue their dreams no matter what the obstacles are.
The Dictionary is published only because the Senior Citizen forum took an active interest and garnered funding for the publishing services and was able to print 250 pre-publishing copies for 1000INR and the rest 250 copies will hit the newsstand for 1500INR. His eyes sparkle when he talks about the Dictionary and is full of gratitude to all the people who have helped him bring it to fruition. He believes that we can only save our language from certain death if we love it loyally. Here is a man who loved the Malayalam language so much that he learned all the other Dravidian languages to understand it better and that counts for something. He is a proud man and all his ailments could not stop his smile and pride, everytime he holds the dictionary like a father holds his baby for the first time.